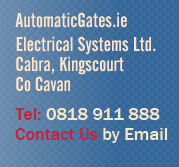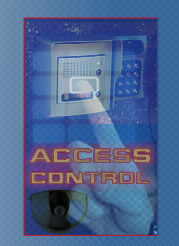 Company profile - BENINCA-CAB-ERREKA
PSA LICENCE NO. 05767
Electrical Systems Ltd. was first established in 1991. Over the years we have kept directly in touch with changing technologies. Our policy is to deal only with manufacturers of the highest quality components. Unlike others suppliers / installers of Gate Automation products we do not compromise quality for cost. We know that end users are prepared to pay that little bit extra for a reliable product.
As a result today we are confident that our product range and our back-up service is second to none. We also specialize in Door Automation systems for the Spanish company ERREKA . See link.
All of our installation and service personnel have been trained to the highest technical standard and all of our products have been tried and tested to our total satisfaction.
We know that when we fulfill a customer order , they are getting the very best in quality, material , workmanship and service.

Our philosophy is that our customers should be 100% satisfied otherwise we have failed. We believe that in providing our customers with the highest quality products on the market combined with excellent service we can continue to expand our reputation. This means that we will design, supply and install the equipment that best suits each customer's requirements. We are proud of our reputation which has been built on expertise, experience, and reliability.
Over 20 years ago we carefully choose a manufacturer whose name is synominous with Quality and Reliability.
We are proud to represent the Italian company BENINCA in Ireland . BENINCA ( www.beninca.it) has over 30 years manufacturing experience and produces a range of quality products for distribution throughout the world. Follow us on Facebook at www.facebook.com/electricalsystemsireland
Beninca Holdings is comprised of the following companies :